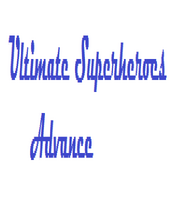 Ultimate Superheroes Advance is a video game for PSP. The game was developed by Vicarious Visions and published by THQ. The game will be released on 2014.
There are many characters and many modes in this game. For choosing characters, first select teams and select the mode what you want (Story Mode / Advance Mode). There are 6 modes in this game. The modes are:
Story Mode: Includes to select the team, choose characters and go through the adventures.
Versus Mode: Includes to fight the opponents as much you can
CPU Mode: Includes to battle like player vs. opponent!
Wireless Mode: Includes to play with other players joining by Wireless-Network. (Note: WLAN switch should be on in PSP).
Options: Includes to select difficulty, language and manage player settings
Save: Includes to save data.
Characters
Edit
There are many characters in this game. Some of them are playable and some of them are supporters. The characters are:
Power Fight Team charactersEdit
Shaym
Shuaib
Sheldon
Lan (Twin brother of Shaym)
Rock Van
Alan Tennyson
Cody (New Appearance)
Xanzor
Jin Kazama (New Appearance)
Leo
Lars Albertson
Zero (New Appearance)
Itachi Uchiha
Deidara
Lex
Hafsah (supporting character) Girlfriend of Shaym
Alisa (supporting character) Girlfriend of Shuaib
Amy (supporting character) Girlfriend of Sheldon
Wesley John (supporting character for Captain Wolver)
Captain Wolver
Ransik
Rimlan
Alban De Mane
Jackie Chan Adventures Team charactersEdit
Jackie Chan
Jade (supporting character for Jackie Chan)
Uncle
Tohru
El Toro Fuerte
Paco (supporting character for El Toro Fuerte)
Viper
Captain Black (supporting character for Jackie Chan)
Super Moose (supporting character for J-Team)
Valmont
Chow
Finn
Ratso
Hak Foo
Shendu
Drago
Strikemaster Ice
DJ Fist
MC. Cobra
Tarakudo (Full Body Form)
Mega Man Zero & X Team charactersEdit
Zero
Ciel (supporting character for Zero)
Elpizo
Craft
Copy X
Sage Harpuia
Fighting Fefnir
Fairy Leviathan
Hidden Phantom
X
Axl
Dr. Thomas Light (supporting character for X)
Sigma
Signas
Vile
Dynamo
Gate
Red
Lumine
Final Fight Team charactersEdit
Cody
Guy
Haggar
Carlos Miyamoto
Maki Genryusai
Dean
Lucia Morgan
Andore
Damnd
Sodom
Edi. E
Rolento
Belger
Ben 10 Team charactersEdit
Ben Tennyson
Gwen Tennyson
Kevin Levin
Grandpa Max (supporting character for B-Team)
Rook Blonko
Michael Morningstar
Vilgax
Khyber
Kraab
Psyphon
Highbreed
Enoch
Vulkanus
Rhumboid Vreedle
Octagon Vreedle
Driscoll
Zombozo
Sixsix
Seven-seven
Eight-eight
Aggregor (Human Form, Ultimate Form)
Hex
Charmcaster
Red Knight
Eon
Dr. Animo
Z's Skayr
Water Hazard (Bivalvan)
Terraspin (Galapagus)
NRG (Pandor)
Amphibian (Ra'ad)
Ad blocker interference detected!
Wikia is a free-to-use site that makes money from advertising. We have a modified experience for viewers using ad blockers

Wikia is not accessible if you've made further modifications. Remove the custom ad blocker rule(s) and the page will load as expected.